Gir National Park
Best Time To Visit
Jan
Feb
Mar
Apr
May
Jun
Jul
Aug
Sep
Oct
Nov
Dec
Most Popular
High Sighting
Park Closed
Low Sighting
About Gir National Park
Species
Lion, leopard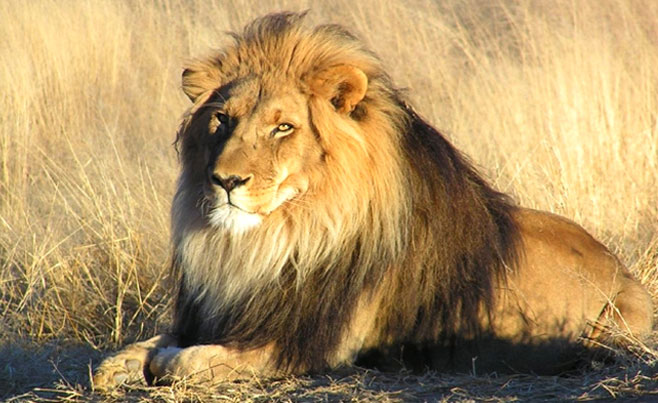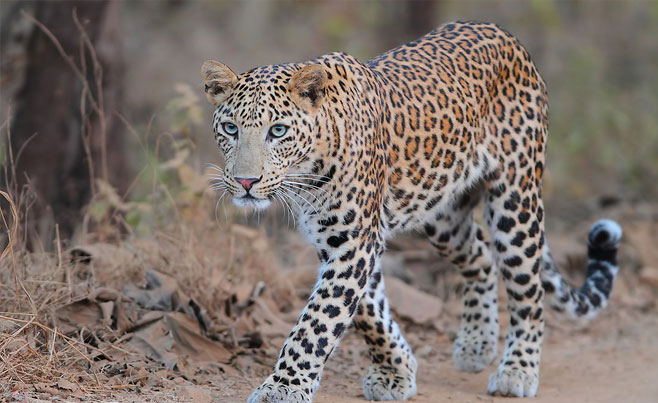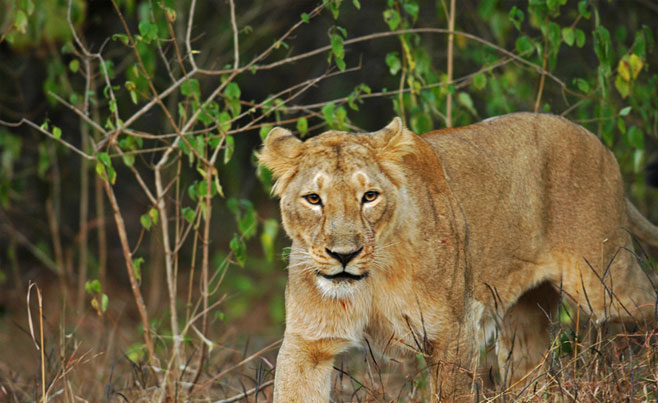 Overview
Scraggly, brown, dry and thorny. Gir, the last bastion of the Asiatic lion, is a beautiful but harsh teak dominated habitat in the Junagadh district in Kathiawar, Gujarat. Far from the stereotypical vision most people have of forests in the tropics, Gir is anything but 'lush'. It is, nevertheless, one of India's most precious and vital biodiversity vaults. A semi-arid wilderness emblazoned by rust, beige and the occasional scarlet, when the flame of the forest and silk cotton trees are in bloom, Gir brings to mind visions of distant Africa, despite the fact that it lacks the extensive grasslands of the Masai Mara. Yet, something in these ecological circumstances proved to be just what the lions needed, for it is only here, in relatively small fragments of forests, supported by 'poor quality' teak, that one of the world's rarest large cat survives. Once distributed across Asia Minor and Arabia, in centuries gone by lions had colonised lands in India as far north as Saharanpur, Moradabad and Ludhiana, eastwards to Bihar and southwards to the Narmada valley. But a combination of habitat destruction and brutal horseback and machan hunting almost wiped the species off the face of the earth. The last lion to be killed in Gujarat was in 1870, but in Central India, where no one protected them the last one was shot in 1884. Forced into this tiny, forested western corner of the country, around 300 lions now share their fragile home with villagers, cattle and India's robust industrial ambitions. Located in southwest Saurashtra, the Gir forest extends across an area of 1,412 sq. km. and is clothed by a combination of grassland, scrub and forests of teak that grow on lateritic soils. An aerial view reveals low undulating hills rising from a height of 225 to 648 m., almost fully encircled by agricultural fields. What is left in Gir today, naturalists and historians point out, is the last remnant of native landscape within the Saurashtra peninsula. As many as seven significant rivers pass through Gir: the Hiran, Saraswati, Datardi, Shingoda, Machhundri, Ghodavadi and Raval. The water from these rivers is key to the survival of the lions. This supply is also invariably the last source available to downstream human communities when their wells and streams run dry just prior to the arrival of the next life-giving monsoon. If you stay a couple of days you are almost certainly going to see the lions. Slightly smaller in size than the African lion and with a smaller mane it is a shaggier creature with dense belly fringes and a distinctive belly fold. Sighting a large male in the wild is an impressive sight. Your best bet would be to step out early in the morning, when most lions, be they loners, pairs or prides, are out on patrol. Lions perceive little threat from humans and are therefore possible to see at fairly close quarters. If you decide to spend time in one of the Maldhari nesses you might just see lions in a very different light! These herders know their animals and do not generally hurt them, but they understandably keep watch and drive them away from their areas, fearing the loss of their valuable livestock. In recent years the population of wild ungulates has risen and therefore attacks on domestic stock has come down. As the day heats up, lions seem to prefer resting under the shade of a banyan or other tree that offers real shade from the sun, or in the thick green vegetation of Carissa, or near a waterhole. They tend to hunt at dusk. Driving is not permitted at night, but if you sit out in the open you are very likely to hear the awesome roaring of males, particularly in October or November, which is their mating season. Gir is also a great place to see leopards, or panthers as they are also called. Much smaller than lions, they are more agile, climb trees and therefore manage to keep out of the way of the heavier, more powerful cats. Sambar, chital (now abundant), nilgai (the largest Indian antelope), four horned antelope and chinkara are the deer prey species seen all over the park. Other prey species include langur and wild boar. Porcupine, hare and jackal are also found in Gir. Carnivores such as wildcats, jackals, foxes, hyaenas and ratels are found in the park, each occupying their own very special niche. There are 25 species of reptiles in Gir, the most visible of which are the marsh crocodile, which can be seen in the rivers and the Kamleshwar dam reservoir. Monitor lizards are also possible to see. Pythons, cobras, the fish-eating keelbacks and whipsnakes are some of the other snakes that inhabit the park.
Trails and Excursions
There are three main tracks in the forest, all well known to the many drivers and guides. Among the more productive drives are ones you might take early in the morning or late in the evening between Sasan and Kankai, Baval Chowk, Chodavadi and Tulsi Shyam. Other interesting routes are to Deva Danga and Riley's. Water is a scarce resource in Gir, but around the rivers and reservoirs crocodiles do thrive and there is a breeding farm at Sasan (strictly for release into the wild, not for commerce) that is worth a visit. When water sources dry in the summer, these reptiles are concentrated around the five perennial streams and a few waterholes, which are also magnets for all diversity of wildlife found here. The Kamleshwar dam built on the Hiran river is one of the best places to see crocs and bathing is strictly prohibited.
How To Reach
By Air:
Keshod is the closest airport about 60 km. away. It is well connected by road to Gir.

By Rail:
Junagadh railway station is 65 km. from Gir and is well connected by road. Sasan is the closest railway station, on the meter-gauge line. Slow steam trains run to Veraval twice daily, and to Delwada and Junagadh once a day.

By Road:
Sasan Gir to Ahmedabad 895 km., Rajkot 160 km., Junagadh 65 km., Veraval 43 km.

Tips:
In summer, light cotton garments are suitable while light woollens are required in winter. Jeeps are the mode of travel as walking is not permitted. Take a jeep and not a minibus into the park for it is in the smaller trails that you will come across the lion, which the minibus cannot take. Permits are issued at the Park Information Centre in the Sinh Sadan Guest House in Sasan Gir. Jeeps and Matadors can be hired from the Forest Department, Sasan Gir with guides. No private vehicles are allowed to enter the sanctuary. The jeep tours take up to six people along with a guide for three hours. Look for animals near water sources, salt licks or grassy areas. Deer species are very nervous and most often they see or hear you before you see them. If you see them bound away you know what happened. Keep silent as you move around.