Kanha National Park
Best Time To Visit
Jan
Feb
Mar
Apr
May
Jun
Jul
Aug
Sep
Oct
Nov
Dec
Most Popular
High Sighting
Park Closed
Low Sighting
About Kanha National Park
Species
Tiger, chital, langur, gaur, dhole, peacock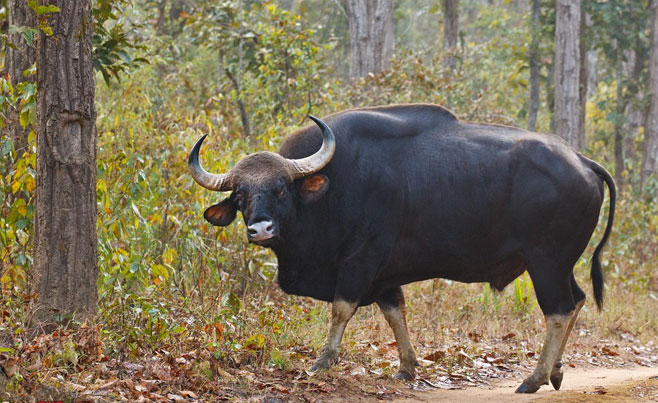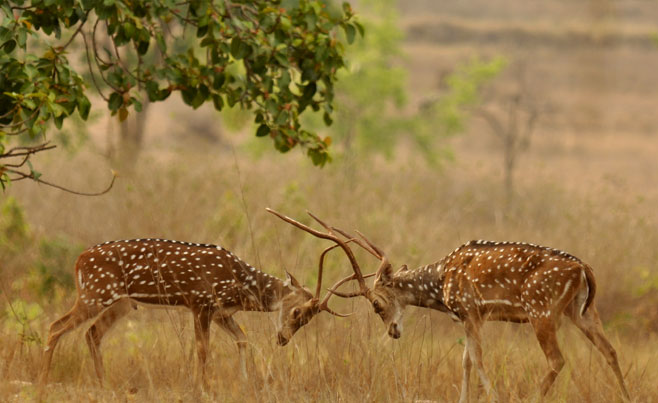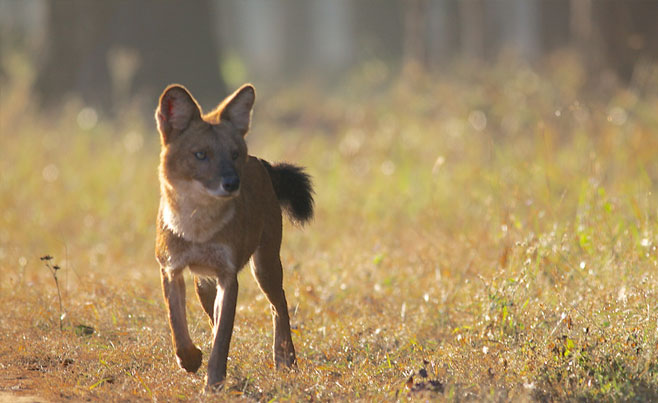 Overview
The Kanha Tiger Reserve is prime tigerland... the epitome of Kipling country with sal forests of sunlight and shadows, a myriad streams, rolling meadows and all the wildlife imaginable. Home to one of the world's most endangered deer - the hardground barasingha - this amazing National Park helped pioneer the advent of scientific conservation management in India. It is justifiably held out as one of Project Tiger's star success stories. Virtually everyone who visits Kanha comes away moved by its magnificent diversity. Most visitors return. Kanha lies to the east of the Central Indian highlands (that stretch east-west across Madhya Pradesh) in the Maikal hills of the ancient Satpura mountain range. Its flat-topped hills (500 -1,000 m) support grassy meadows, or maidans. Well-watered valleys, rich with forests, ascend in steps from West to East. The river Sulkum, a tributary of the Banjar, flows through Kanha and is its principal source of water. The area teems with diverse wild animals typical of Indus-Ganges monsoon forests. The Banjar and Halon Valley forests form the western and eastern halves of Kanha. The low-lying Banjar Valley floods over in the rains leaving rich soils. The southern source of the mighty and now controversial Narmada River lies in the Maikal hills. There is every chance of seeing a tiger on early morning elephant rides, or from vehicles both in the morning or evening. Barasingha deer, star attraction of Kanha, often adorn their antlers with tufts of grass in the rutting season. They are not exactly easy to see, but sightings are possible. Once restricted to the Kanha meadows the deer can now be seen in other meadows as well. Mammals such as the leopard, jungle cat, sloth bear, wild dog (dhole) and the mongoose are usually encountered by sheer chance. Jackals are more frequently seen patrolling their turf, usually in search of fawns or other small prey. Gaurs prefer highlands and the most reliable sightings are to be had in the Mukki range. Only the largest tigers will try to bring down a bull gaur. Chital deer can be seen in herds numbering hundreds. Wildboar, preyed upon by leopards and tigers, are common almost everywhere. Four-horned antelope or chausingha, blackbuck and nilgai can also be seen, but less frequently. The Hanuman langur and palm squirrels are ubiquitous. Some animals are difficult to sight. These include the hyena, blackbuck, chevrotain (mouse deer, only 300 cm. tall!), porcupines, sambar and barking deer (or muntjac), (found in small numbers). Pythons and cobras, though common, are difficult to spot.
Trails and Excursions
As with other wildlife areas, early mornings are the most rewarding. Silent rounds on elephant back provide you with an incomparable feel of the forest, its smells and sounds. Tiger trackers locate elephants and the park authorities offer to take tourists to the spot when one is sighted. But in recent years this practice has come in for considerable criticism from conservationists and animal rights activists who rightly point to the cruelty and danger to the tiger, which is often kept away from water or food sources for hours by a phalanx of elephants. The tiger tends to stay quiet to conserve its energy during the day. But it patrols its territory at dawn and dusk, which is when you stand the best chance to spot it from a vehicle. Tracking tigers on elephant back can be an exhilarating experience. One sets out early in the morning from Kisli, Kanha or Mukki to a flat nullah or a grassy glade. Pugmarks or drag marks of a kill, or langur and deer alarm calls provide clues to the whereabouts of the secretive cat. Anticipation is nine-tenths of the pleasure of being out in the forest and visitors very often come across such rare and delightful sights as a leopard striding across a road in broad daylight, or a monitor lizard or python basking in the early morning sun. Gaur, the world's largest ox, prefer to keep to hilly tracts watered by perennial springs. In the evenings they normally come out to graze in nearby meadows. Mukki, is probably the best area for gaur. Sambar, chausingha and nilgai also frequent the areas and sloth bear too. Birds like the Marsh Harrier are also found at these elevations. For a breathtaking view of the Kanha expanse and the Banjar Valley, a late afternoon drive out to Bahmnidadar (850 m.) makes for an unforgettable outing. The drive takes you through rich forests of haldu and dhaora, festooned by climbers and framed with clumps of giant bamboo. Leopards are frequently spotted on this track, as are barking deer, sambar and jungle fowl.
How To Reach
By Air and By Rail:
Jabalpur and Nagpur are easy to reach by air or rail. Taxis are available for hire from Jabalpur and Nagpur. Khatia and Mukki are the main entry points for the park. From Jabalpur, Kisli (a village area close to the forest) where most of the tourist lodges are located is 165 km. Mukki is a little further (203 km.). From Nagpur, Kisli is 259 km.

By Road:
Mukki is 287 km. Within the reserve: Park visits are permitted only during daylight hours. Elephant rides early in the morning from Kisli, Kanha or Mukki can be arranged. Four people sit on the howdah with an experienced mahout. Fees must be paid while booking the ride.

Tips:
Bookings for a morning drive or on elephant back into the park should be made the previous day. In addition to the Kanha meadow, ask to be taken to Bahmnidadar, Mukki and Shravan Tal from Kisli. Each has its own flavour and mood. At Kisli a restaurant serves both Indian and Western food and a cheaper canteen serves reasonably priced meals and snacks. A soft drink at the Kanha Safari Lodge at Mukki can be a godsend after a hot and dusty forest drive (mineral water and beer are also available!). Where possible, pay in advance for your lodging by bank draft and carry enough cash for unforeseen expenses. If foreign currency encashment is required, the State Bank at Mandla (65 km. away) is the nearest facility. If you plan to visit, keep at least three nights in hand, both for better chances of seeing the tiger and to let the feel of the jungle really seep into you. Be prepared for the cold of the winter or the heat of the summer. The climate is extreme. Cotton clothes worn in layers keep one fairly warm, but woollens are essential as early mornings and late evenings can be cold. The moving jeep makes the cold really uncomfortable so windcheaters and headgear must be standard equipment on a winter trip.